04 November 2010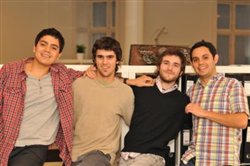 We continue our rotating Startupbootcamp blog series. This entry is by Juan Moreno from The Kinetik.
The Kinetik is a cross promotion network for mobile app developers to promote each other and get more users without spending any money. We allow developers to choose who they promote, ensuring their users get a relevant selection of apps. So far, we have helped over 100 mobile publishers in categories like entertainment, productivity and social networking exchange clicks with other publishers.
We came from Buenos Aires to Copenhagen set out to create out a way that would help great ideas (in the form of mobile apps) get discovered. We had developed some apps ourselves and for clients and knew that with +200.000 mobile application developers like us, more than +350.000 apps are suffering from of the app discovery decease.
The Startupbootcamp experience.
First, we reached out to all of Startupbootcamp mentors and thankfully they were kind to talk to us. We started listening, shared opinions and received lots of feedback. As we set out to implement it, we had a lot of folks with questions and open minds. It made our project more fun, as we got lots of smart people helping us to realize the idea.
As we progress, we sailed the same sea and asked customers what they wanted. We build a super-quick prototype and begun spending more time with our customers.
One of our early adopters, the co-founder of Creative Mobile said "we've been doing this already by adding "more games" submenu to some of our products, but if there is a service which allows us to do this AND exchange clicks with other publishers AND control it via a web interface, then we'll happily switch to using it." We have used his and many others' feedback and will introduce a number of new features like adding screenshots, videos and the ability to connect directly with other members shortly. We will continue to listen to our users' ideas and focus on their needs, all in sync with our goal to help discover, share and manage apps more effectively.
By sharing our ideas with smart people, our small team concentrated on the early advice and executed it quickly. We were lucky to build a network of people who understand and are involved with our idea and vision. They have not only been great mentors, but we have made lifelong friends which will enable us to build cool stuff, deliver a great product and have fun.