06 October 2010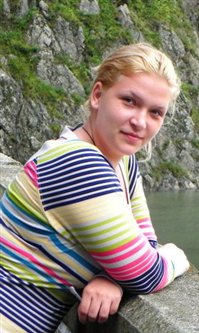 We continue our rotating Startupbootcamp blog series. This entry is by Andreea Chiriloiu, Community Manager Webcrumbz.net.
In regard to the radical title, it is actually easy to comprehend: everything is done via mobile nowadays. And what is not done now, will be done in the near future - or else! I am being so radical because everything around us point to that conclusion. From comprehensive studies to everyday situations, the facts still remain the same - either you stay connected via your mobile device and make it a part of your life, or you don't exist.
Mobile media firm, BuzzCity, indicates that the global mobile advertising industry grew by 17% during Q3 2010. This means that in countries like Libya, Kenya, China or the Republic of Korea, the mobile advertising industry grew up to 150% compared Q2. In total, 14 countries have witnessed double digit growth in mobile advertising over the last three months, with three markets, Libya, Korea and Kenya, experiencing triple digit growth. This only transforms into huge incoming numbers for businesses that are open to the mobile advertising idea.
The Development of Mobile Marketing
For those who still find it difficult to understand the concept of mobile media advertising, here is a little point that may shed some light on the idea. Mobile marketing is now considered to be the 7th mass media channel alongside print, recordings, cinema, radio, TV, and the internet. As a consequence of this new ranking the following question appears: What the best way to approach marketing to users of mobile devices?
Marketing to mobile devices is believed to have started in the year 2000 with text message news services, that were free but sponsored by advertising. This easily and quickly transformed into mass promotion of events and alerts. But text message advertising can often be annoying, and even more if we consider costs for users depending on their mobile service's inbound text message rates. Therefore a new method had to be developed - and it was to "pull" a medium rather than to "push" one. And the method is now known as polling or voting for programs like American Idol or Dancing with the Stars.
How to Attract Traffic
Now that you got the beginning of the mobile marketing, let's look more into more recent mobile advertising techniques. In these the work surrounding the mobile web is very different than that of the traditional web, with many key differences in everything from display advertising to search. With traditional search, SEO is the key to getting your site noticed in the never-ending reach of the Internet, but with mobile search, the methodology is hugely different.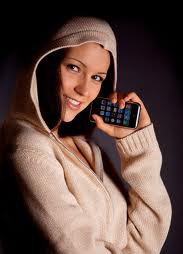 While certain optimization is still needed to make sure people can find your mobile site, location is the primary attribute that determines who sees your site and when. Hence, for sites that have no location-relevance, the same SEO techniques that work on the traditional web will work to some degree on the mobile web as well. For those with sites and business listings that are location-aware, such as retail locations, small businesses and local service providers, you are at the mercy of the devices that your audience is using. For example, a local business owner in Copenhagen who runs a restaurant would normally develop a traditional website and optimize it to rank well for basic keywords such as "restaurant in Copenhagen," or "cheap meal in Copenhagen". With the new mobile targeting, however, those keywords are irrelevant. That business owner has to rely on users searching for "restaurant," and being within a geographic proximity to their business. So it is more or less a matter of taking a risk.
All in all, the rules of mobile SEO and techniques of utilizing the "location-optimization" are yet to be written, but one thing is sure - the view is rapidly changing into a more mobile-focused ecosystem, and many aspects will have to change on numerous levels to keep up.
After such a concise lesson on mobile SEO and advertising techniques, from their early beginning and to the present day, let's also take a quick look over how profitable this new market really is.
How to Deliver Your Message
It has been calculated the average urban consumer encounters up to 5000 ads a day via every channel. A small percentage of this number, though, is being delivered via mobile. So to put it simple, mobile marketing is personal marketing and between Blackberries, Q's, iPhones, and other devices, mobile advertisers have plenty of opportunities to reach the consumer on a personal level.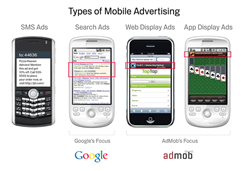 Mobile advertisers are using five main tactics (drive traffic to branded mobile websites, click-to-call, campaign-specific landing page info, email capture, and sending text, picture, audio, or video message to user) in order to deliver their messages. These tactics offer a wide range of opportunities to effectively convey an advertiser's message throughout a campaign. Of course, it goes without saying that the issues of privacy, clutter, and irritation of the consumer began to appear. In order to help marketers, an Austrian study conducted by Haghriigan and Madleberger, called "Consumer Attitudes toward Advertising via Mobile Devices", came up with 7 practices that successful marketers use.
Ads must be targeted, provide informative and/or entertaining content with a level of effective credibility. However, one finding in this study addresses the nebulous area of mobile device marketing; those that highly value privacy will have difficulty finding value in ads delivered via their mobile device. Despite ad content, the "mobile addictive" people are the group most difficult to crack for advertisers and marketers, but the progression of marketing through mobile devices indicates that they are still more than willing to try.
All in all, it is a tough nut to crack, but it is not impossible and, intriguingly, the tougher it is, the more followers it gets. Mobile marketing is a growing bubble and everybody wants a piece of it, but the first step into having a mobile advertising campaign is to have a mobile version of your website, and this can be easily made with the help of Webcrumbz.net by entering the website and follow the steps there.