22 September 2010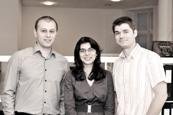 We continue our rotating Startupbootcamp blog series - our ten teams take turns sharing their thoughts and experiences on their Startupbootcamp adventure.
This entry is by Ciprian Borodescu & Anghel Alexandra from WebCrumbz.net
Being a Product Guy
We are product guys and we know it. But a few years back, while we were working on our first project, we did not know exactly what a "product guy" is.
Since 2005, we had been working as consultants, out-sourcing and developing projects for different clients. We had always based our strategy on quality work, so for us, that meant designing a professional website, developing user-friendly interfaces and ensuring that our clients were happy. We could not dream of cutting corners on quality – a project was not completed until it looked great, was bug-free and thoroughly tested.
Our First Taste of Entrepreneurship
After a while, we thought that it would not be such a bad idea to develop a product of our own. The result was a great first project: An excellent e-learning platform with a lot of features. It had all the features that you would ever need, lots of content and interaction between the users. After a couple of months of work, we were finally happy with it and we launched it.
And that was it. For us, that was what it meant to develop and launch a product. No advertising campaigns, no strategy, no plans. Of course, our project was great, and had we built it for a customer, I am sure it would have been a huge success. In comparison the competitors had (and still have) a lousy WordPress platform and a third party flash player. But what they also had was a lot of traffic.
So, where was the mistake? Why was nobody using our great product instead of sticking to the competition's mediocre platform? Well, it turned out that we were so focused on the product that we pretty much forgot the marketing part. How would the users find us? How would they know about us? How would we get them to use our platform and pass the information on to the next user?
Lesson Learned
After that, we learned our lesson. Of course, the product guy within us is still trying to get out. We can't help frowning when we hear things like "Launch when you're 80% ready" (and yes, lots of mentors actually say that). So, from time to time we have to remind ourselves that the product is not enough. Even if it is the best product out there, it means nothing if nobody is using it.
The result – this week we are launching our beta platform which creates a mobile website based on your traditional website and we invite you to register for a drive-test here . No, it is not finished, but it is still great and we would use any piece of advice you can offer us from marketing to development.
Meanwhile, our advice to every product guy out there: Stop chasing the "Perfect Product". Engineers are from Mars, designers are from Venus and business people have to be from Earth. Earthlings should know that it is really down to customers to judge if your product is worth paying for, and first of all they need to know that you exist. So ask yourself if that shiny thing you are coding on those long, lonely nights will really "fly" and how will people know that it exists? You might want to skip one of the development nights in front of the computer and go to a bar with your friends, ask for their opinion and buy a beer to whoever has the most critical feedback on your product or on how people will ever know that it exists…