31 August 2010

We continue our rotating Startupbootcamp blog series - our ten teams take turns sharing their thoughts and experiences. This entry is by Juan Moreno of Mini App Stores.
An app explosion
Worldwide demand for mobile applications is set to explode in the next three years as the total value of the market could grow to $17.5 billion (according to a report commissioned by GetJar). This would mean that the value of apps sold would be greater than the value of CDs sold in 2012 ($13.83bn).
Morgan Stanley analyst Mary Meeker called 2012 an "inflection point" for mobile advertising.
If there's a single reason for the mass-entrance of apps into the mobile market, it is app stores.
We view app stores as direct developer-to-consumer channels that have sped up time-to-market for applications, a route that was previously laden with obstacles, such as lack of information, complex submission and certification processes, low revenue shares and regional fragmentation.
Publishers using regular mobile advertising have hit an advertising revenue frontier on mobile apps. Why? Basically because, according to Steve Jobs, "Mobile advertising sucks". It's true, user's learning curve has hit a point where they find most ads irrelevant, clicking to see what's next is not new anymore, hence click through rates are falling.
A potential solution
We've been working to solve this problem and have created what we think is a great alternative: Mini App Stores.
The idea is to integrate a "Mini App Store Component" in your application which allows you to show references of other applications. Your app will look like this (note the bar at the top):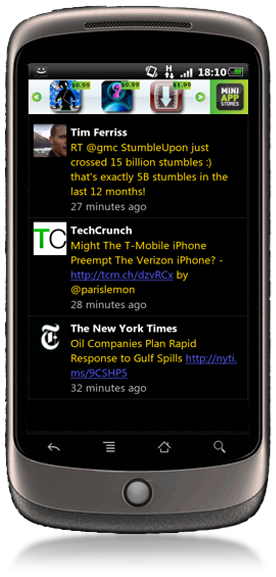 The process is simple:
Install the "Mini App Store Component" in your app

Advertise other applications within your app

Done! Whenever a person downloads an application referred to in your app, you earn money.



Mini App Stores owners (apps that have installed the Mini App Store component) gain more money and extend their revenue frontier through:
Recommendations: Apps you refer via your app are actually recommended apps based on the user's interests (purchases) – just as Amazon recommends books based on your previous purchases.


User-Experience: The user browses apps with the next and back button (swipe is coming) from a set of evolving apps recommended for the user.

Watch the video demo.

This significantly improves the user experience; leading to more downloads, and increase revenue. So far users are telling us they see it as part of the app ;).
Recently we got the great news that we were admitted to join Startupbootcamp, and here we are in Copenhagen, straight from Argentina. The program has exceeded our expectations; you can read our blog post about it. We've been getting some feedback from the mentors in regards to our brand name, Mini App Stores. What do you think? We think there are so many app-something names out there that our name recognition may suffer. Please share your thoughts.
We're also interested in engaging with app publishers. We're app developers ourselves and love to talk to geeks and startup fanatics. (Juan can be reached at juan@miniappstores.com).
Greetings to all and see you in the next post.
The Mini App Stores Team