18 August 2010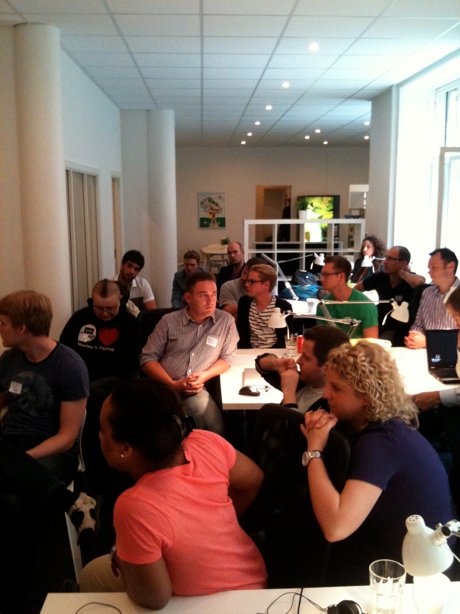 Startupbootcamp launch
On Monday 30 international entrepreneurs and I launched Startupbootcamp.

Our purpose is to get ten startups off the ground in just under 13 weeks. The intense program will culminate on Demo Day in mid-November.

This is such an amazing experience that Martin Thorborg agreed with me that we should share an insider view with the Amino community.
I'm writing this first entry but will immediately hand over to our ten teams who will rotate posting (at least twice a week). They will share their Startupbootcamp experience in real time and hopefully engage the Danish entrepreneurial community.

The back story
Over a year ago I contacted the founder of TechStars, David Cohen, to ask if he'd like to work on a Copenhagen version of their program. At the time he was working on expanding within the US (they are now in Boulder, Boston and Seattle) but he replied "I'm open source, ask me anything". A few weeks later I had the answers to my many questions but parked the project for lack of a suitable partner.

Then in November I was fortunate to meet Martin Bjergegaard, co-founder of Rainmaking, and quickly met the other 3 co-founders. Rainmaking had the right values, was looking for a suitable vehicle to plug their growing deal flow into, had real life, hands on startup experience and some funds to put into an initial trial period. By December, I was partnering with Rainmaking co-founder Carsten Kølbek and we decided to go for it.

For the past 8 months, together with Carsten, I've been assembling an amazing pool of mentors (who are all volunteers), raising funds, locking in the affiliation with TechStars and attracting teams and it's been an awesome experience. But until now Startupbootcamp has been a concept.

Dream come true
On Monday the dream became a reality when I welcomed ten teams to Startupbootcamp. We have an incredibly wide range of startup ideas, nationalities and experience levels but all have one thing in common: they want to make the best of this unique opportunity.

We're on day 3 of the program and the teams already met 30+ of our mentors at a social event yesterday and have had several one-on-one sessions with individual mentors. We think when you're at such an early stage, it's all about the mentors. They share their experience, open up their networks, act as critics and beta testers and generally provide that external view you so quickly loose when your head is down in the handle bars.

All the work is still ahead of the teams and success is not guaranteed. But one thing's for sure: we're going to have the time of our lives. This is the first of many Startupbootcamps and we look forward to sharing our experience with you.
Meet the Startupbootcamp teams - and join maybe them
We plan to attend the First Friday networking event this week (which is exceptionally on the third Friday of the month so that the Startupbootcamp teams can join). At least two are looking for additional team members. They will be taking one of the usual 3min. x 3 slides slots to describe the kind of people they're looking for (a web developer/programmer, and a gamer with fundraising experience). You are also welcome to take a presentation slot if you're an entrepreneur looking for help. The event is free and open to all, sign up here: http://www.startupbootcamp.dk/events/.
See you soon.
-Alex Farcet
Co-founder and Managing Director of Startupbootcamp